Outside the Waistband (OWB) Kydex Holster


IF YOU HAVE MODS, SUCH AS THREADED BARREL OR EXTENDED SLIDE RELEASE ON YOUR PISTOL IT WILL NOT BE A PROBLEM. PLEASE EMAIL SALES@PATRIOTHOLSTERS.NET WITH THE ORDER NUMBER AND A PIC OF THE PISTOL. WE WILL MODIFY THE CUT ACCORDINGLY.

Our Outside the waistband (OWB) Kydex holster has been trusted to stand up to the rigors of Law Enforcement, Military and Concealed Carry. We have perfected the art of Kydex holster making and believe you will see the craftsmanship that has gone into each handmade product.  No compromises and no shortcuts were made.  We want this product to last you a lifetime and back that up with a lifetime warranty. 



Made from .080 thickness kydex

Adjustable retention and ride height

Made for your specific gun for a perfect fit

Large array of Kydex colors, prints and fabrics.  We offer Multicam, Kryptek and ATACS in fabrics just to name a few. 

Magazine release is blocked out on most guns to prevent accidental release of the mag.




We can do any custom prints like badges or emblems.  Pretty much if you can get us a pic over we can get it infused into Kydex. For custom prints please reach out to us at sales@patriotholsters.net.
Why is the flag reversed for right handers?
For extra Belt Clips: Extra Belt Clips

For Color Options please visit: Kydex Color Options
To view Belt Clip options please visit: Belt Clip Types
Eyelet Color options please visit: Eyelet Colors 
SWEAT GUARD OPTION:
The sweat guard is the piece of Kydex that extends up the rear part of the slide past the rear trigger guard area on the side facing the body.  It provides a barrier between your skin and the metal of the firearm:
1. Full Sweat Guard - Covers the full length of the slide past the rear of the trigger guard area.
2. Med Sweat Guard - Covers 50-60% of the slide past the rear of the trigger guard area.
3. None - even cut with the front kydex piece which is about 1/4" to 1/2" past the rear trigger guard area
For more photos of our work please visit our Instagram page -> Patriot Holsters Instagram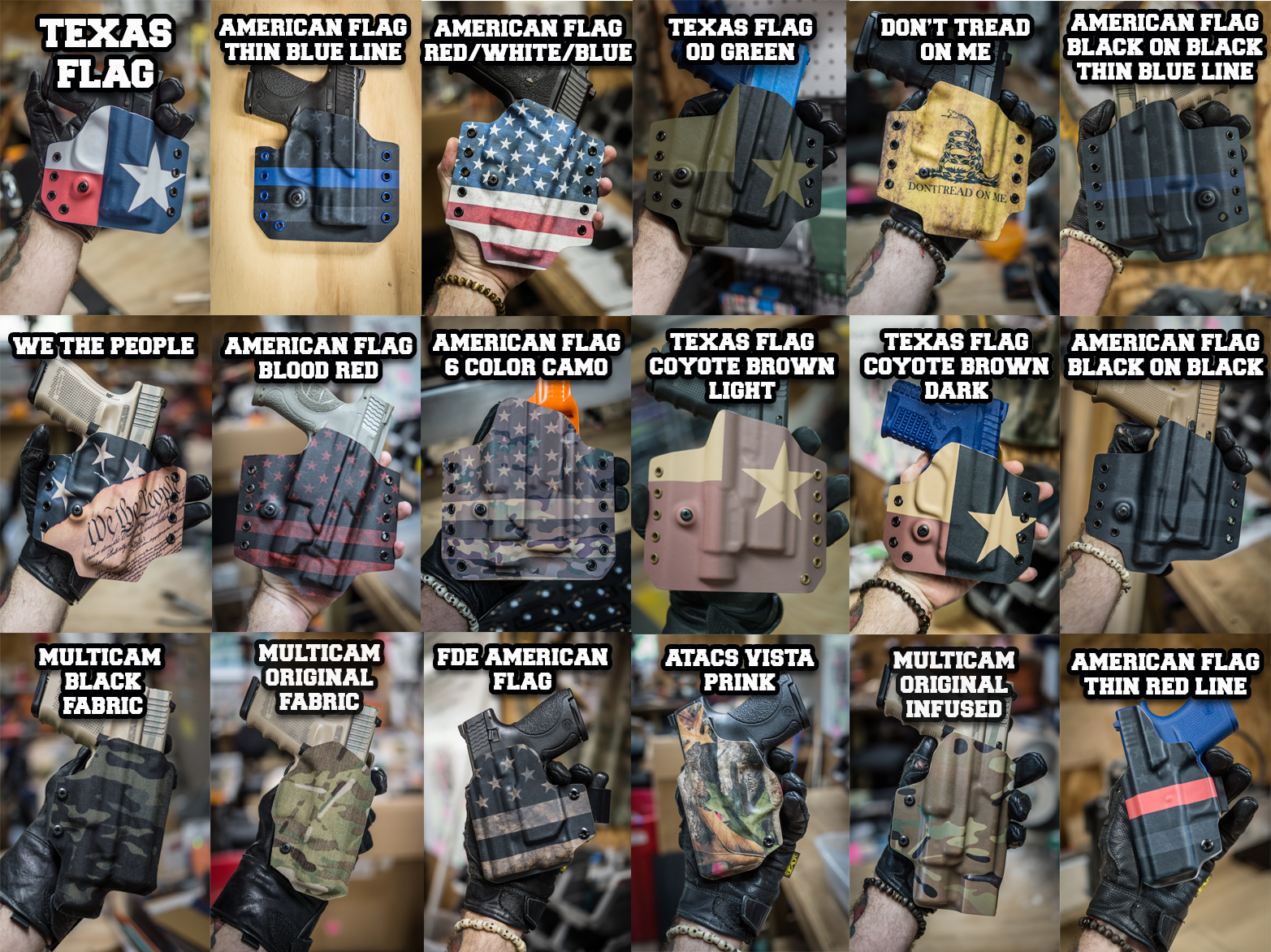 CURRENT LEAD TIME IS 12 to 16 WEEKS BASED ON OPTIONS CHOSEN*
Expedited service is available for active duty and law enforcement customers. Spots are limited, please email sales@patriotholsters.net with credentials.
        *Custom prints/fabric covered can add up to a week the lead times. Lead times are estimations and not guaranteed completion dates. Everything we make is done by hand one at a time and custom to your specific request.  We do not cut corners or run mass production. Check out the reviews on each products page and you will see that we will only ship out our best work and the wait is well worth it.  We stand by our work with a lifetime warranty.


Reviews